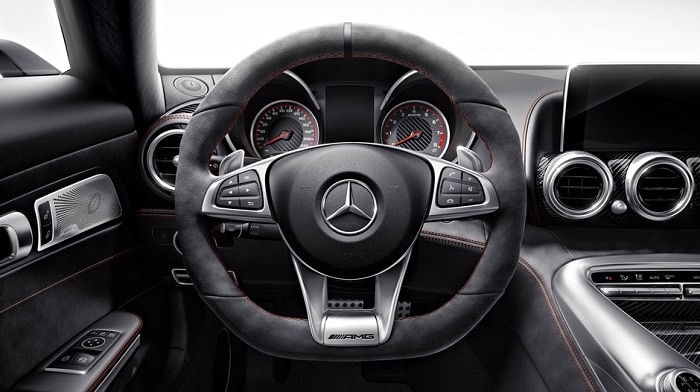 It's one of the oldest marketing ploys in the automotive industry: promise "race inspired" technology or performance. Usually, it's a less-capable or lower-spec version of something found in F1, making it only the most tenuous "inspiration." This is usually the case, but not always. The Mercedes-AMG® Project ONE is proving to be a notable exception.
The Mercedes-AMG Project ONE got its first showing at this year's Frankfurt Motor Show. The concept looks absolutely gorgeous, and you have to squint a bit to see the typical Mercedes-Benz design language. Low-slung, sleek, and futuristic, we were shocked to hear that this was a preview of a new Mercedes-Benz model due for production sometime in 2019, even though it may not be available here at Mercedes-Benz of Owings Mills.
Wait a minute. This car is street legal? It's not only the looks that have us asking. Tobias Moers, Chief Executive of Mercedes-AMG, called the vehicle an F-1 car for the street, and when you see some of the key specifications, you realize this isn't marketing-speak. There really is F1 tech in this car, and what isn't inherited from the company's racing cars is plenty innovative in its own right.
After all, both cars share the same electrically-assisted turbocharged 1.6-liter gas engine, the same electric motors, cooling system, and batteries. Each of these components is engineered to perform at a higher level than you're used to. There's zero turbo lag, an ingenious three-motor layout (one driving each front wheel, and the third capturing and redistributing energy off the crankshaft), and an electric battery pack that allows use as an all-electric plug-in hybrid for limited distances.
Other innovations include a bespoke eight-speed single-clutch automated manual transmission, LMP1-derived suspension, and many more unique features. The good news? As we mentioned before, it will enter production. The bad news? Good luck finding one, since only 275 will be available worldwide.
But let's close on a high note. The Mercedes-Benz AMG has a long history of bringing high performance to everyday drivers. Even if the Mercedes-AMG Project ONE is a limited edition, its technology will eventually make its way to other production models. That, like this car, is a thing of beauty.
Find out more at Mercedes-Benz of Owings Mills today. We're located at 9727 Reisterstown Road.