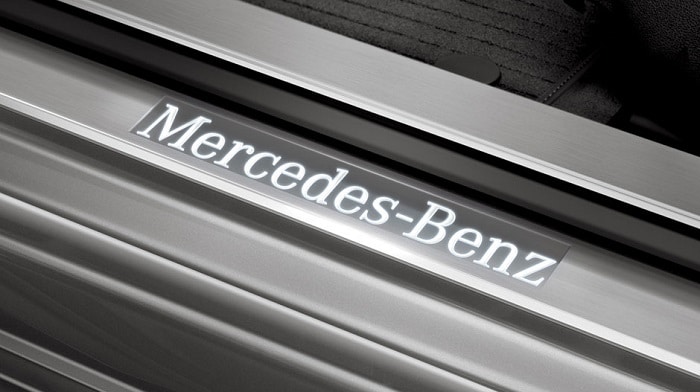 It's easy to be skeptical when an automaker announces long-term plans--regulatory issues, market hiccups, and changing priorities can throw a wrench into the best-laid plans, even if you plan as carefully as Daimler AG is in the habit of doing. With that said, the plans for a Mercedes-Benz EQ sub-brand of new Mercedes-Benz cars that were first announced in 2016 are shaping up nicely; the first new Mercedes-Benz models from this all-electric series will start arriving at Mercedes-Benz of Owings Mills early next year.
The first arrival will be the Mercedes-Benz EQC. Recently shown under heavy camouflage, it bears more than a passing physical resemblance to the current Mercedes-Benz GLC. However, the mechanicals are completely different (a setup that uses two electric motors for 402 horsepower), and there will be much brand-specific technology and styling on offer — or so we're told.
The Mercedes-Benz EQC will still have that new car mystique when it's joined later in the year by the Mercedes-Benz EQA. Like its larger sibling, it shares a platform and some of its design approach with current models (in this case, the Mercedes-Benz CLA and Mercedes-Benz GLA). When it previewed at last year's Frankfurt Motor Show, it looked a bit more like a hatchback, so we're not 100 percent sure what it will look like in production form; its specifications are, likewise, mostly conjecture at this point.
Mercedes-Benz is uniquely positioned to make this initiative a reality. Not only is much of the infrastructure already in place (plants in France and the US are already being eyed for production), but the company has also sunk a prodigious amount of money into starting the EQ brand off on the right foot.
Normally we'd say we can't wait to see what comes next, but in this instance, we don't have much choice in the matter. Like you, we'll have to wait a while longer before these innovative vehicles show up at 9727 Reisterstown Rd., for sale at Mercedes-Benz of Owings Mills.