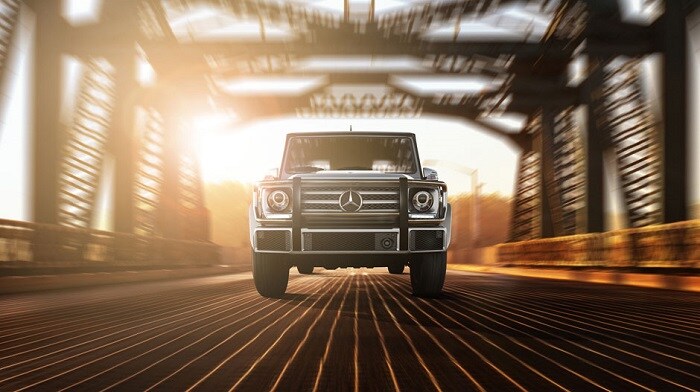 When a classic turns 40, how do you remake it? The short answer: very, very carefully. We don't envy the engineers and designers at Mercedes-Benz, because the task of redesigning the iconic Mercedes-Benz G-Class SUV must seem thankless. The end result, due soon at Mercedes-Benz of Owings Mills, looks to be well worth the effort.
Few realize that even though it's been updated steadily over the years, the Mercedes-Benz G-Class is still the same in many ways as its very first predecessor that debuted in 1979. In some ways, that's only cemented its cult status among SUV fans. It looks like what it is: a rough-and-tumble SUV that's built to tackle practically anything… though, because it's built by Mercedes-Benz, it still has plenty of creature comforts.
What does the new generation hold? The cosmetic updates were applied with a very light hand and concern layout and proportions rather than a wholesale makeover. Beneath the sheet metal it's a much different story. One of the most important changes is the introduction of crumple zones for added safety. The steering system, which used to be laborious, is now an electrically-assisted rack and pinion system that's a lot easier on the arms.
The new steering system has another advantage: it's compatible with a wide range of driver-assist features. That means this new Mercedes-Benz SUV can receive the same PRESAFE® collision avoidance and mitigation, active lane-keeping assist, and self-parking capability available to others in the lineup like the Mercedes-Benz GLC.
Other updates include wholesale changes to the front suspension, ladder frame, and the body — the latter of which is now much lighter and stiffer than before. What results is something that combines the best of a classic (dashing looks, rugged off-road capability) with technology that finally and fully brings an icon into the 21st Century.
To find out more about the 2019 Mercedes-Benz G-Class, visit Mercedes-Benz of Owings Mills at 9727 Reisterstown Rd., today.