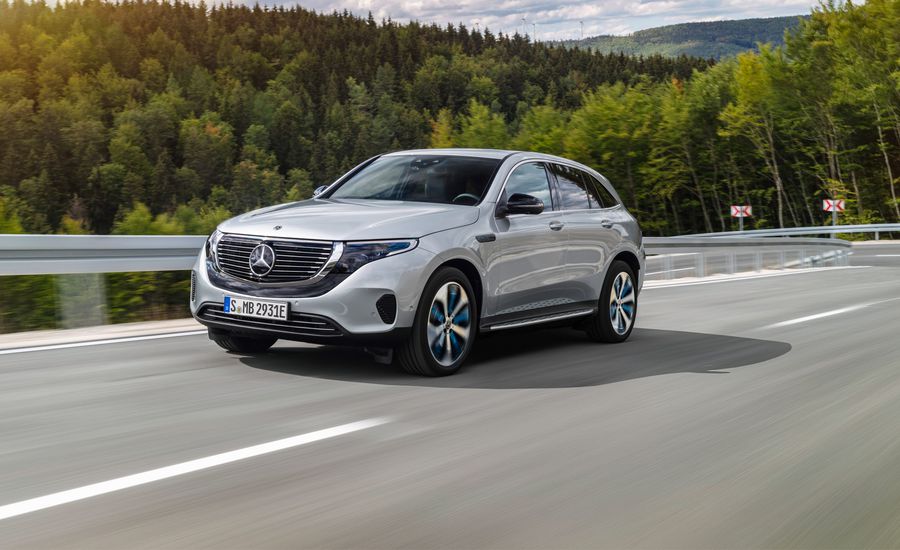 Back on August 11, Mercedes-Benz released a 30-second teaser video for the Mercedes-Benz EQC. It was the first close look — albeit a series of all-too-brief glimpses — most people have gotten at the long-awaited Mercedes-Benz EV. On Sept. 4, we got a much longer look as the company finally unveiled a production-ready concept. Here's what we've learned since the last time Mercedes-Benz of Owings Mills covered this exciting new crossover.
Not only are we seeing more of the exterior (sans camouflage), we've also gotten a closer look inside — and under the hood — than ever before. Two electric motors promise 300 kW of output (that's roughly 400 horsepower), 516 lb.-ft. of torque, and a zero-to-60 time that's less than five seconds. Range figures have yet to be finalized; preliminary figures were calculated by the NEDC standard, which doesn't account as well for real-world use.
The interior borrows heavily from the Mercedes-Benz GLC. The most striking feature, however, comes straight from the original Generation EQ concept. Above the center stack — which features a profusion of buttons and controls — floats an ultrawide display. Rather than the oblong displays that are becoming increasingly common, this one has sleeker proportions and stretches from the center stack to the area where one would usually find the instrument cluster.
As TopSpeed notes, "That Mercedes actually used it on the production model speaks to how far it's come in developing the technology it can properly use on one of the most important models it's rolling out in recent years."
Production won't start for a little while yet, since this new SUV isn't slated to arrive at dealerships until sometime in 2019. One thing is clear, however: the era of a single brand dominating the EV field is rapidly drawing to a close. To find out more about this and other new Mercedes-Benz SUVs, visit Mercedes-Benz of Owings Mills at 9727 Reisterstown Rd., today.