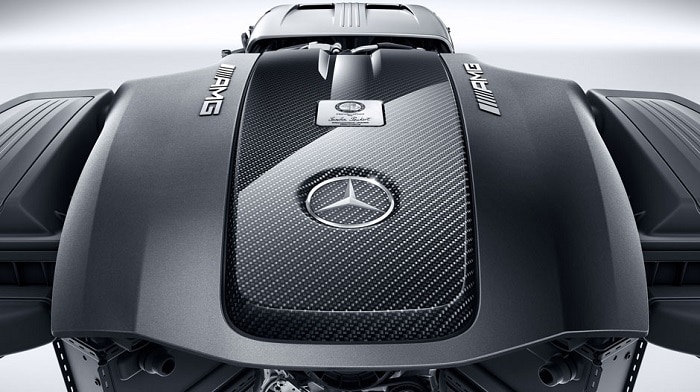 There are some interesting developments emerging with the new Mercedes-AMG® C 63. Two versions of the car — one coming soon to Mercedes-Benz of Owings Mills, and one not due for some years yet — are making news for different reasons. Let's dive in and see what's new.
First: the imminent 2019 Mercedes-AMG® C 63. It made its first appearance at the New York International Motor Show a few weeks ago, and it comes with many changes. Not just aesthetics, which we'd expect. There are also no fewer than 25,000 new parts. The one thing that hasn't changed, at least not yet, is the twin-turbocharged V8 engine that's one of the car's hallmarks. It's paired to a new nine-speed transmission.
In conversation with Car Advice, Tobias Moers, head of Mercedes-AMG®, calls the car "a perfect combination of power output and gears, now with the nine-speed box, which offers the perfect range of gears. It's better sorted out on a race track – you're always in the right gear, coming out of corners, for example."
That raises the stakes for the next generation, as Moers admits. And big changes are in store. A switch away from rear-wheel drive is possible. And in a change that would've been unthinkable just a few years ago, he also casually mentions that electrification — in the form of a hybrid drivetrain with fewer cylinders — is also in the works. The biggest challenge, he says, will be retaining the characteristic exhaust note that sets Mercedes-AMG® vehicles apart.
Well, that, and maintaining a high level of performance. However, given the long history Mercedes-AMG® has of delivering amazing performance from one end of its lineup to the other, we expect big things in the 2019 model year, and the years ahead. To see our current 2018 Mercedes-Benz models, visit Mercedes-Benz of Owings Mills at 9727 Reisterstown Rd., today.